El sistema del complemento y su papel en las enfermedades cutáneas
Palabras clave:
sistema de complemento, angioedema, psoriasis, penfigoide ampollar
Resumen
El sistema del complemento es un conjunto de proteínas asociadas a la regulación de la inmunidad y a la protección del huésped. Existen tres vías de activación llamadas clásica, alternativa y asociada a las lectinas, que culminan en la producción de opsoninas, de ana lotoxinas y del complejo de ataque a la membrana. La activación del sistema del complemento es fundamental en la defensa cutánea contra agentes microbiológicos, como también en la regulación de la inflamación y de la lesión tisular. En diversas enfermedades cutáneas puede constatarse hiperactividad, de ciencia o anomalías en el control del sistema del complemento. Mediante mecanismos autoinmunitarios con depósito de anticuerpos, o por efecto citotóxico sobre la epidermis o las células vasculares, se observa un efecto inflamatorio directo como ocurre en el lupus eritematoso sistémico o en las enfermedades ampollares autoinmunes. Además, las de ciencias en la regulación del sistema del complemento generan la activación de vías colaterales proinflamatorias como en el caso del sistema calicreína-cinina (quinina) en el angioedema hereditario. En este trabajo se describe la fisiología del sistema del complemento, su relevancia en algunas patologías cutáneas frecuentes y las alteraciones en los estudios de laboratorio.
Citas
I. Nesargikar PN, Spiller B, Chavez R. The complement system: history, pathways, cascade and inhibitors. Eur J Microbiol Immunol (Bp). 2012;2:103-111.
II. Chaplin H Jr. Review: the burgeoning history of the complement system 1888-2005. Immunohematology. 2005;21:85-93.
III. Pérez Torres D, Corell Almuzara A. El sistema de complemento I: elementos, vías de activación y vía lítica final. [en línea] Immunomedia.org, 2018. [Consultado septiembre 2021].
IV. Bohlson SS, Garred P, Kemper C, Tenner AJ. Complement nomenclature-deconvoluted. Front Immunol. 2019;10:1308.
V. Holers VM. Complement and its receptors: new insights into human disease. Annu Rev Immunol. 2014;32:433-459.
VI. Ling M, Murali M. Analysis of the complement system in the clinical immunology laboratory. Clin Lab Med.2019;39:579-590.
VII. Garred P, Genster N, Pilely K, Bayarri-Olmos R, et ál. A journey through the lectin pathway of complement-MBL and beyond. Immunol Rev. 2016;274:74-97.
VIII. Merle NS, Church SE, Fremeaux-Bacchi V, Roumenina LT. Complement system. Part I - Molecular mechanisms of activation and regulation. Front Immunol. 2015;6:262.
IX. Bubeck D. The making of a macromolecular machine: assembly of the membrane attack complex. Biochemistry. 2014;53:1908- 1915.
X. Klos A, Tenner AJ, Johswich K-O, Ager RR, et ál. The role of the anaphylatoxins in health and disease. Mol Immunol. 2009;46:2753-2766.
XI. Campbell RD, Law SK, Reid KB, Sim RB. Structure, organization, and regulation of the complement genes. Annu Rev Immunol. 1988;6:161-195.
XII. Edwards G, Diercks GFH, Seelen MAJ, Horvath B, et ál. Complement activation in autoimmune bullous dermatoses: a comprehensive review. Front Immunol. 2019;10:1477.
XIII. Giang J, Seelen MAJ, van Doorn MBA, Rissmann R, et ál. Complement activation in inflammatory skin diseases. Front Immunol. 2018;9:639.
XIV. Jurado-Palomo J, Caballero T. Pathophysiology of bradykinin- mediated angioedema: The role of the complement system. En: Kartal SP, Kutlubay ZA. Comprehensive review of urticaria and angioedema. Londres: IntechOpen, 2017:151-176. Disponible en https://www.intechopen.com/chapters/54364 doi: 10.5772/67704.
XV. Frank MM. Complement disorders and hereditary angioedema. J Allergy Clin Immunol. 2010;125:S262-271.
XVI. Panelius J, Meri S. Complement system in dermatological diseases - fire under the skin. Front Med (Lausanne). 2015;2:3.
XVII. Ali FR, Al-Niaimi F. The role of the complement system in dermatological disease. Expert Rev Dermatol. 2012;7:359-366.
XVIII. Chiorean RM, Baican A, Mustafa MB, Lischka, A, et ál. Complement-activating capacity of autoantibodies correlates with disease activity in bullous pemphigoid patients. Front Immunol. 2018;9:2687.
XIX. Romeijn TR, Jonkman MF, Knoppers C, Pas HH, et ál. Complement in bullous pemphigoid: results from a large observational study. Br J Dermatol. 2017;176:517-519.
XX. Mateo-Pascual MC, Pérez-Unanua MP, Muñoz-González Y, Alert Flo N. Epidermólisis ampollosa adquirida relacionada con el estrés. Semergen. 2011;37:508-510.
XXI. Pérez JMF, Polvo ENJ, Padilla SEE. Inmunodeficiencias del complemento. Revisión de la literatura. Parte II. Deficiencias de la vía alterna, lectinas, vía terminal, control, regulación y receptores del complemento. Diagnóstico y tratamiento de inmunodeficiencias del complemento. Alerg Asma Inmunol Pediatr. 2018;27:44-48.
XXII. Seelen MA, Roos A, Wieslander J, Mollnes TE, et ál. Functional analysis of the classical, alternative, and MBL pathways of the complement system: standardization and validation of a simple ELISA. J Immunol Methods. 2005;296:187-198.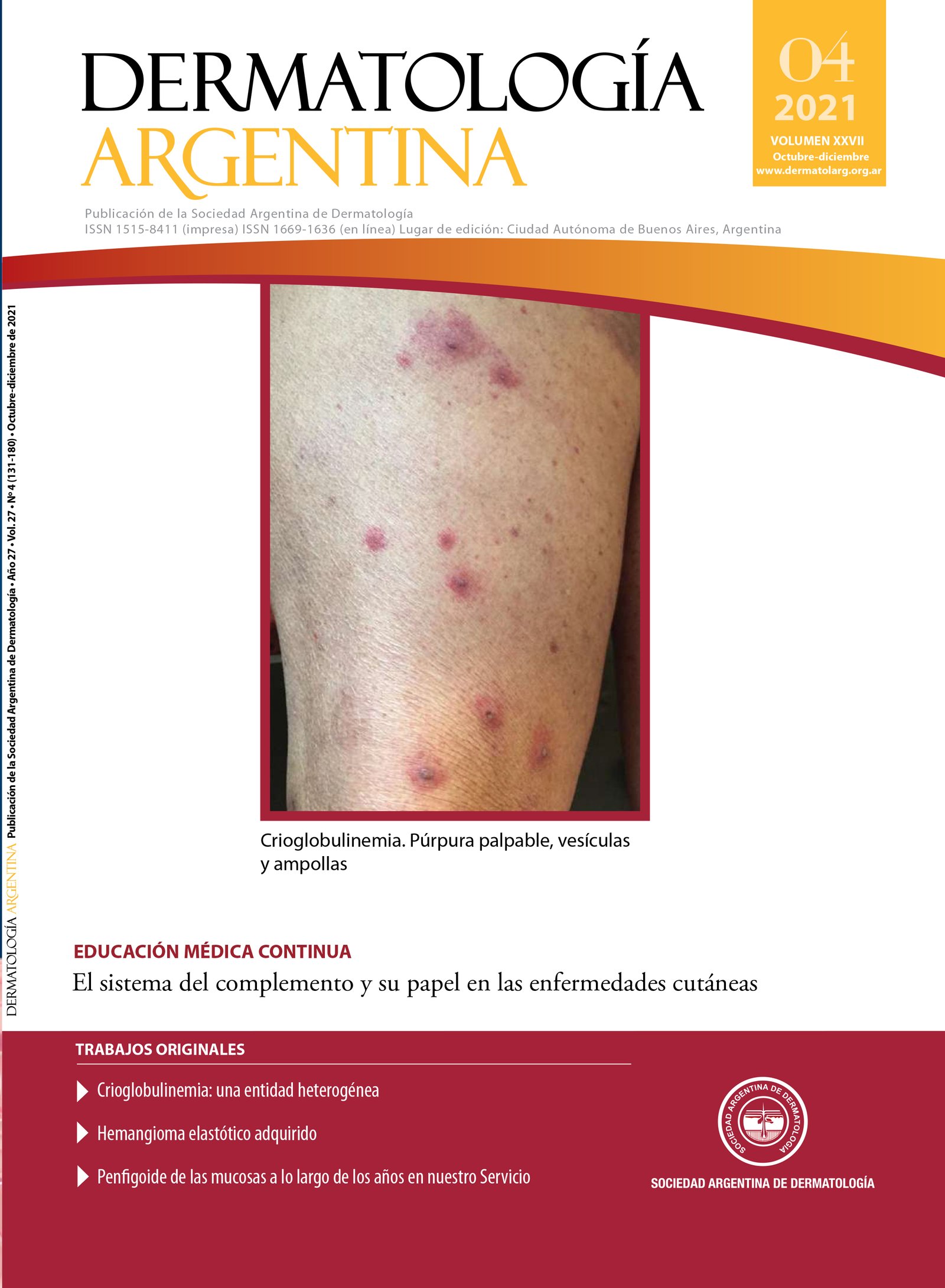 Descargas
Sección
Educación Médica Continua
Licencia
Derechos de autor 2021 Dermatología Argentina
Esta obra está bajo una licencia internacional Creative Commons Atribución-NoComercial-SinDerivadas 4.0.
El/los autor/es tranfieren todos los derechos de autor del manuscrito arriba mencionado a Dermatología Argentina en el caso de que el trabajo sea publicado. El/los autor/es declaran que el artículo es original, que no infringe ningún derecho de propiedad intelectual u otros derechos de terceros, que no se encuentra bajo consideración de otra revista y que no ha sido previamente publicado.
Le solicitamos haga click aquí para imprimir, firmar y enviar por correo postal la transferencia de los derechos de autor