Carcinoma de células escamosas de la lengua
Palabras clave:
carcinoma oral, carcinoma de células escamosas, carcinoma verrugoso
Resumen
Las neoplasias de la lengua son los tumores más comunes de la cavidad bucal y la mayoría pertenecen a carcinomas de células escamosas. Presentamos dos casos de carcinomas de la lengua, correspondientes a un carcinoma escamoso moderadamente diferenciado y un carcinoma verrugoso, en mujeres de mediana edad con factores de riesgo oncogénicos. Estos tumores pueden tener diversos grados de diferenciación, los cuales determinan su pronóstico y tratamiento.
Citas
I. García Kass AI, Domínguez Gordillo AA, García Núñez JA, Cancela Rivas G, et ál. Revisión y puesta al día en cáncer de lengua. Av Odontoestomatol. 2013;29:255-269.
II. Saura E, Jariod ÜM, Simon MV, Gavin M, et ál. Carcinoma escamoso de cavidad oral en paciente menor de edad. Rev Otorrinolaringol Cir Cabeza Cuello. 2017;77:417-424.
III. Allen CM, Camisa C, McNamara KK. Enfermedad oral. En: Bolognia JL. Dermatology. 4.a ed. Barcelona: Elsevier; 2018:1220-1242.
IV. Samman M, Wood H, Conway C, Berri S, et ál. Next-generation sequencing analysis for detecting human papillomavirus in oral verrucous carcinoma. Oral Surg Oral Med Oral Pathol Oral Radiol 2014;118:117-125.
V. Wang N, Huang M, Lv H. Head and neck verrucous carcinoma: A population-based analysis of incidence, treatment, and prognosis. Medicine (Baltimore) 2020;99:e18660.
VI. Melo BAC, Vilar LG, de Oliveira NR, Lima PO, et ál. Human papillomavirus infection and oral squamous cell carcinoma - a systematic review. Braz J Otorhinolaryngol. 2021;87:346-352.
VII. Santosh HN, Nagaraj T, Saxena S, Biswas A, et ál. Verrucous carcinoma: A clinicopathological study. J Oral Maxillofac Pathol. 2019;23:303.
VIII. Koyfman SA, Ismaila N, Crook D, D'Cruz A, et ál. Management of the neck in squamous cell carcinoma of the oral cavity and oropharynx: ASCO Clinical Practice Guideline. J Clin Oncol. 2019;37:1753-1774.
IX. Hayes RB, Ahn J, Fan X, Peters BA, et ál. Association of oral microbiome with risk for incident head and neck squamous cell cancer. JAMA Oncol. 2018;4:358-365.
X. Peng Q, Wang Y, Quan H, Li Y, et ál. Oral verrucous carcinoma: from multifactorial etiology to diverse treatment regimens (Review). Int J Oncol. 2016;49:59-73.
XI. FaustinoISP,FernandesDT,Santos-SilvaA,VargasPA,etál.Oral carcinoma development after 23 years of renal transplantation. Autops Case Rep. 2019;9:2019112.
XII. KimYJ,KimJH.Increasingincidenceandimprovingsurvivalof oral tongue squamous cell carcinoma. Sci Rep. 2020;10: 877.
XIII. Hübbers CU, Akgül B. HPV and cancer of the oral cavity. Virulence. 2015;6:244-248.
XIV. Chinn SB, Myers JN. Oral cavity carcinoma: current management, controversies, and future directions. J Clin Oncol. 2015;33:3269-3276.
XV. P ster DG, Spencer S, Adelstein D, Adkins D, et ál. Head and neck cancers, Version 2.2020, NCCN Clinical Practice Guidelines in Oncology. J Natl Compr Canc Netw. 2020;18:873-898.
XVI. Nair S, Singh B, Pawar PV, Datta S, et ál. Squamous cell carcinoma of tongue and buccal mucosa: clinico-pathologically di erent entities. Eur Arch Otorhinolaryngol. 2016;273:3921-3928. XVII. Hosseinpour S, Mashhadiabbas F, Ahsaie MG. Diagnostic biomarkers in oral verrucous carcinoma: a systematic review. Pathol Oncol Res. 2017;23:19-32.
XVIII. Fuentes Yunes C, Alvarado Suárez R, Aldape Barrios BC. Carcinoma epidermoide de lengua con diagnóstico tardío. Presentación de un caso clínico. Rev Mex Cir Bucal Maxilofac. 2009;5:79-82.
XIX. De Keukeleire S, De Meulenaere A, Deron P, Huvenne W, et ál. Verrucous hyperplasia and verrucous carcinoma in head and neck: use and bene t of methotrexate. Acta Clin Belg. 2020;11:1-5.
XX. Mohan S, Pai SI, Bhattacharyya N. Adjuvant radiotherapy is not supported in patients with verrucous carcinoma of the oral cavity. Laryngoscope. 2017;127:1334-1338.
XXI. Cecchi R, Bartoli L, Brunetti L, Pavesi M. Oral verrucous carcinoma treated with imiquimod 5% cream and carbon dioxide laser. Eur J Dermatol. 2011;21:596-597.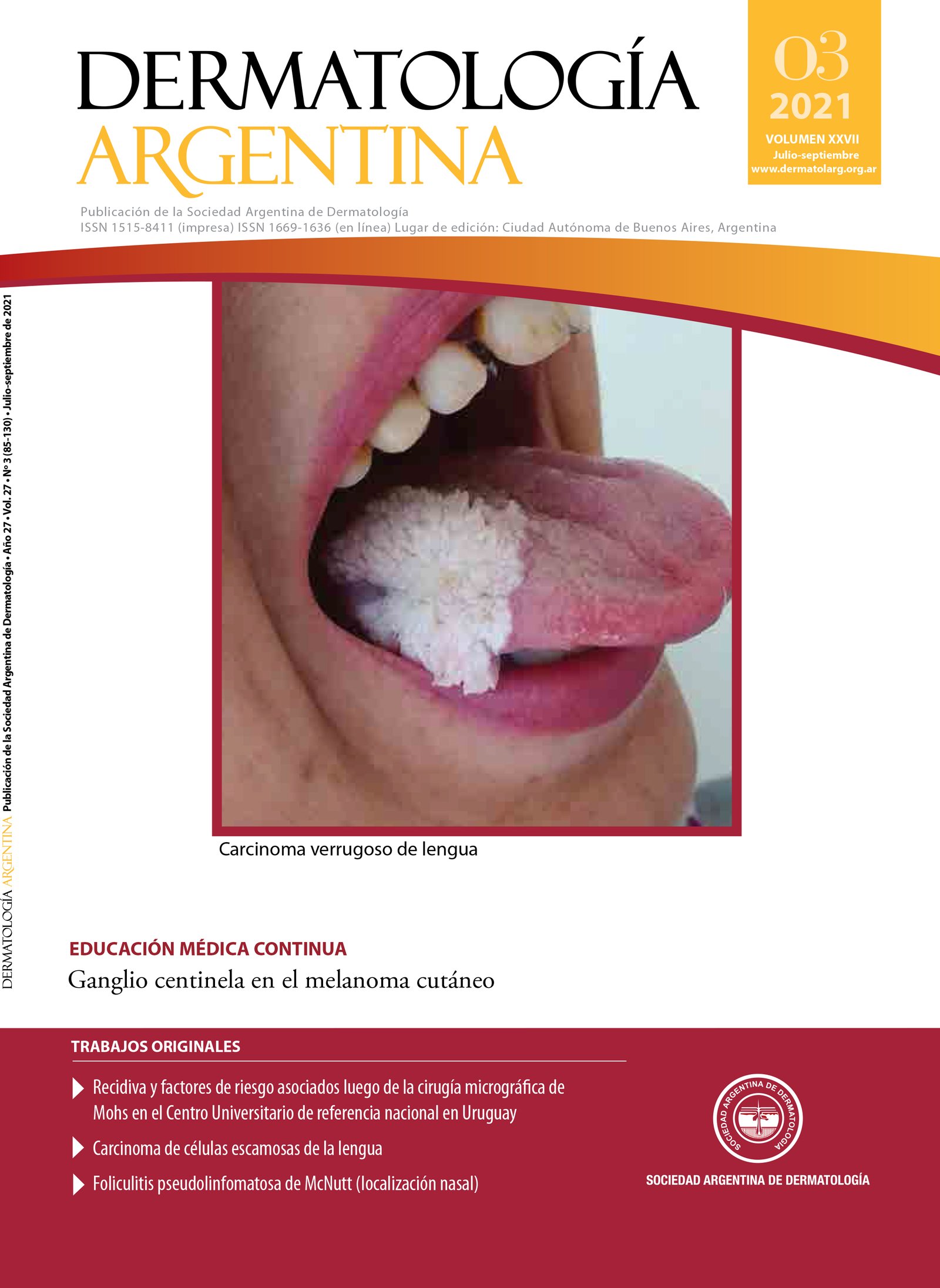 Descargas
Sección
Trabajos Originales
Licencia
Derechos de autor 2021 Sociedad Argentina de Dermatología
Esta obra está bajo una licencia internacional Creative Commons Atribución-NoComercial-SinDerivadas 4.0.
El/los autor/es tranfieren todos los derechos de autor del manuscrito arriba mencionado a Dermatología Argentina en el caso de que el trabajo sea publicado. El/los autor/es declaran que el artículo es original, que no infringe ningún derecho de propiedad intelectual u otros derechos de terceros, que no se encuentra bajo consideración de otra revista y que no ha sido previamente publicado.
Le solicitamos haga click aquí para imprimir, firmar y enviar por correo postal la transferencia de los derechos de autor