Proliferación vascular atípica mamaria inducida por radioterapia
Palabras clave:
proliferación vascular atípica posradioterapia, angiosarcoma, carcinoma de mama
Resumen
La proliferación vascular atípica mamaria inducida por radioterapia es una proliferación angiomatoide que aparece sobre la piel previamente irradiada por el tratamiento conservador de un carcinoma de mama. Se presenta el caso de una paciente de 58 años que consultó por la aparición de múltiples pápulas purpúricas milimétricas en la mama derecha. Había recibido radioterapia y cuadrantectomía por un carcinoma intraductal 5 años antes y estaba medicada con tamoxifeno. El análisis histopatológico e inmunohistoquímico informó: "Proliferación vascular atípica inducida por radiación, variedad linfática". Se adoptó una conducta expectante, con seguimiento estrecho.
Citas
I. Patton KT, Deyrup AT, Weiss SW. Atypical vascular lesions after surgery and radiation of the breast a clinicopathologic study of 32 cases analyzing histologic heterogeneity and association with angiosarcoma. Am J Surg Pathol. 2008;32:943-950.
II. Weaver J, Billings SD. Postradiation cutaneous vascular tumors of the breast: a review. Semin Diagn Pathol. 2009;26:141-149.
III. Ronen S, Ivan D, Torres Cabala CA, Curry JL, et ál. Post-radiation vascular lesions of the breast. J Cutan Pathol. 2019;46:52-58.
IV. Gengler C, Coindre JM, Leroux A, Trassard M, et ál. Vascular Proliferations of the Skin after radiation therapy for breast cancer: clinicopathologic analysis of a series in favor of a benign process a study from the french sarcoma group. Cancer. 2007;109:1584-1598.
V. Mandrell J, Miniter U, Vaitla R. Multiple primary atypical vascular lesions occurring in the same breast. Cutis. 2017;100: E13-16.
VI. Ruiz Berguerie J, Fernandez J, Anaya J. Atypical vascular proliferation after radiation for breast carcinoma Atypical vascular proliferation. Case report. J Dermatol Cosmetol. 2018;2:193-195.
VII. Mandrell J, Metha S, Mc Clure S. Atypical vascular lesion of the breast. J Am Acad Dermatol. 2010;63:337-340.
VIII. Costigan DC, Doyle LA. Advances in the clinicopathological and molecular classi cation of cutaneous mesenchymal neoplasms. Histopathology. 2016;69:776-795.
IX. Mentzel T, Schildhaus HU, Palmedo G, Büttner R, et ál. Postradiation cutaneous angiosarcoma after treatment of breast carcinoma is characterized by MYC ampli cation in contrast to atypical vascular lesions after radiotherapy and control cases: clinicopathological, immunohistochemical and molecular analysis of 66 cases. Mod Pathol. 2012;25:75-85.
X. Llamas Velasco M, Mentzel T. Molecular diagnostic of vascular tumors of the skin. Am J Dermatopathol. 2020;42:799-810.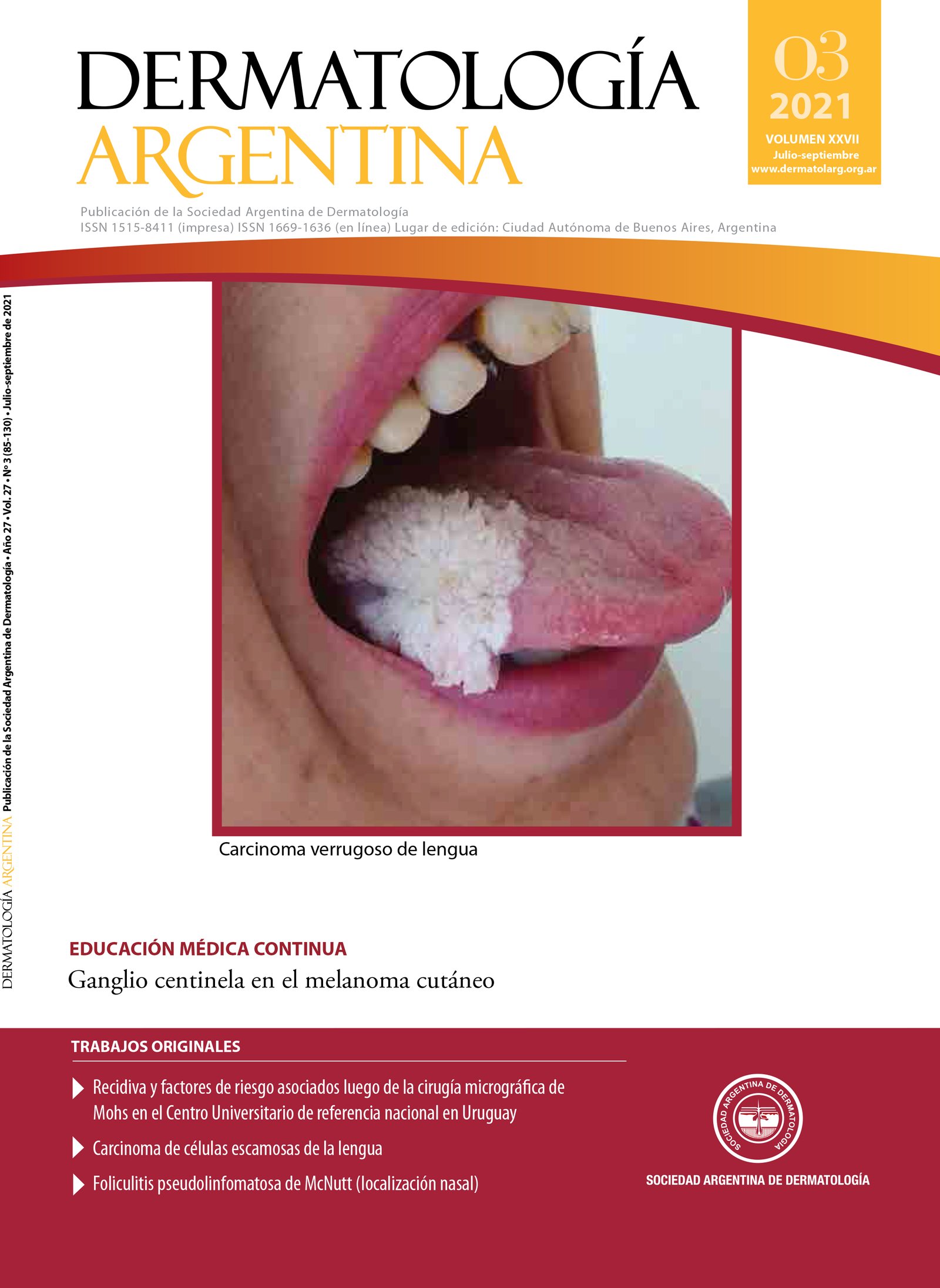 Descargas
Licencia
Derechos de autor 2021 Sociedad Argentina de Dermatología
Esta obra está bajo una licencia internacional Creative Commons Atribución-NoComercial-SinDerivadas 4.0.
El/los autor/es tranfieren todos los derechos de autor del manuscrito arriba mencionado a Dermatología Argentina en el caso de que el trabajo sea publicado. El/los autor/es declaran que el artículo es original, que no infringe ningún derecho de propiedad intelectual u otros derechos de terceros, que no se encuentra bajo consideración de otra revista y que no ha sido previamente publicado.
Le solicitamos haga click aquí para imprimir, firmar y enviar por correo postal la transferencia de los derechos de autor