Lesiones tumorales con disposición zosteriforme
Palabras clave:
Lesiones tumorales, Disposición zosteriforme
Resumen
Una mujer de 31 años, sin antecedentes personales, consultó por presentar dos lesiones tumorales en el tronco desde la infancia, pero que en los últimos 4 meses se tornaron dolorosas y aumentaron de tamaño.
Citas
I. García-Molina D, González-Martin J, Ruiz-Bravo E, Goiburú B, et ál. Espiradenoma ecrino múltiple. Rev Esp Cir Oral Maxilofac 2014;36:199-200.
II. Agnihotri M, Kothari K, Naik L. Multiple eccrine spiradenomas with a zosteriform pattern - Report of a rare case diagnosed on fine needle aspiration cytology. Diagn Cytopathol 2017;45:832-833.
III. Alfonso-Trujillo I, Arteaga-Hernández E, Pérez-Suárez JC. Eccrine spiradenoma in a zosteriform distribution: presentation of a case. Actas Dermosifiliogr 2009;100:619-620.
IV. Rosales Santillan MA,Tajnert K, Swaby MG, Migden MR, et ál. Multiple eccrine spiradenomas in a zosteriform pattern. Dermatol Online J 2017;23:13030/qt11b2w0np.
V. Sorin T, Vignaud JM, Colson T, Gauchotte G, et ál. Zosteriform configuration of multiple eccrine spiradenomas of the scalp. Ann Chir Plast Esthet 2016;61:65-68.
VI. Lobo I, Amorim I, Selores M. Multiple nodules of the head – clinicopathologic challenge. Multiple eccrine spiradenoma. Int J Dermatol 2009;48:237-238.
VII. Zhai Z, Yang X, Hao F, Ye Q, et ál. Multiple eccrine spiradenomas in a linear or zosteriform distribution involving the right side of the body. Int J Dermatol 2008;47:1165-1167.
VIII. Lázaro AC, Roca C, del Prado ME, Grasa MP, et ál. Espiradenomas ecrinos múltiples de distribución segmentaria. Actas Dermosifiliogr 2004;95:305-308.
IX. Portincasa A, Cecchino L, Trecca EMC, Lembo F, et ál. A rare case of Brooke-Spiegler syndrome: integrated surgical treatment of multiple giant eccrine spiradenomas of the head and neck in a young girl. Int J Surg Case Rep 2018;51:277-281.
X. Dhua S, Sekhar DR. A rare case of eccrine spiradenoma - treatment and management. Eur J Plast Surg 2016;39:143-146.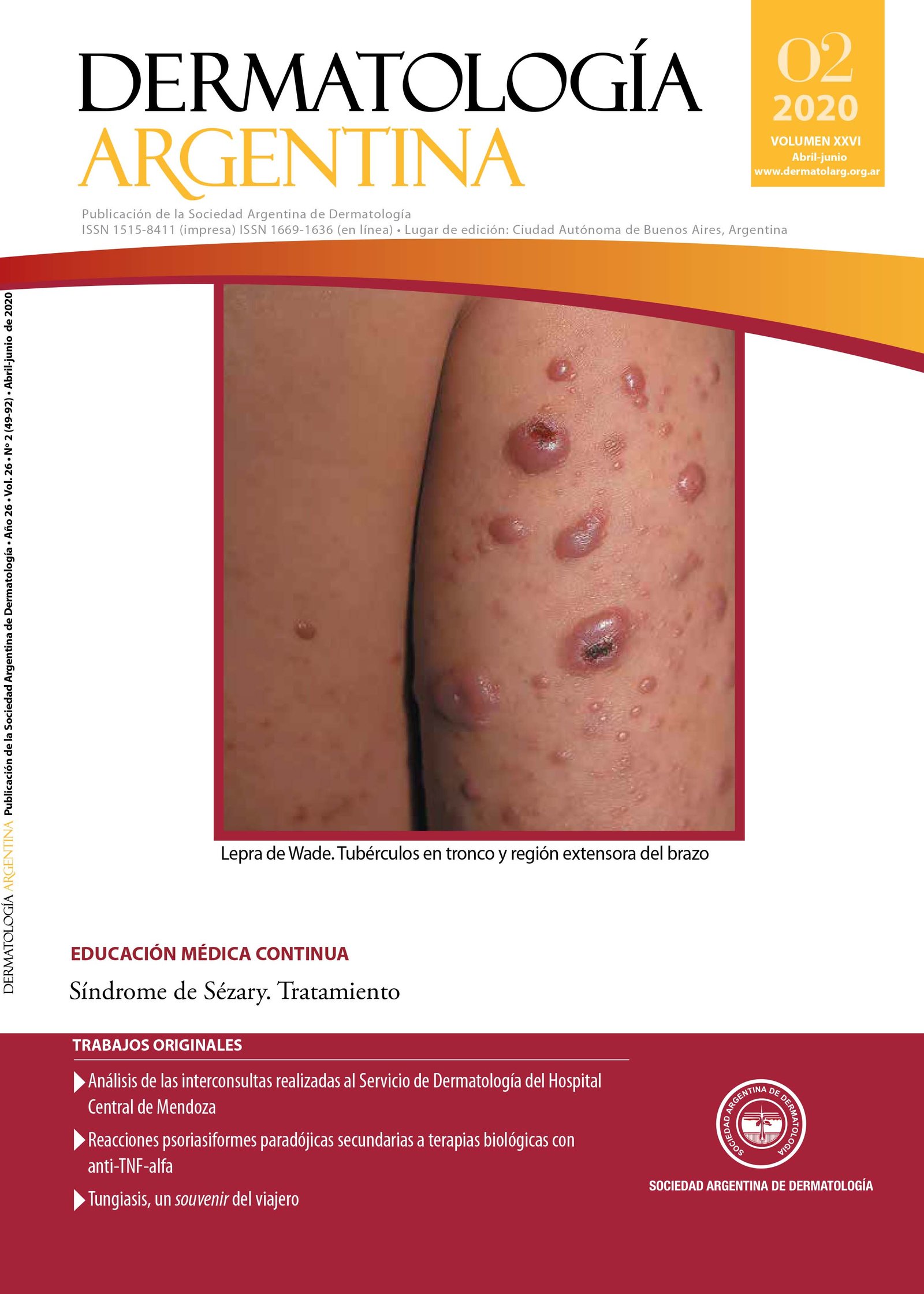 Descargas
Sección
¿Cuál es su Diagnóstico?
Licencia
El/los autor/es tranfieren todos los derechos de autor del manuscrito arriba mencionado a Dermatología Argentina en el caso de que el trabajo sea publicado. El/los autor/es declaran que el artículo es original, que no infringe ningún derecho de propiedad intelectual u otros derechos de terceros, que no se encuentra bajo consideración de otra revista y que no ha sido previamente publicado.
Le solicitamos haga click aquí para imprimir, firmar y enviar por correo postal la transferencia de los derechos de autor