Reacciones psoriasiformes paradójicas secundarias a terapias biológicas con anti-TNF-alfa
Palabras clave:
Psoriasis, Reacción psoriasiforme paradójica, Anti-TNF-alfa, Tratamiento biológico
Resumen
Las reacciones psoriasiformes paradójicas son consecuencia del uso prolongado y cada vez mayor de los distintos tratamientos biológicos; tal es el caso de los anti-TNF-alfa. Las reacciones paradójicas consisten en la exacerbación o en la aparición de un nuevo síntoma o de otra enfermedad que, por lo general, mejoran con el empleo de agentes biológicos como los anti-TNF-alfa.
Estos fármacos presentan múltiples indicaciones en relación con distintas enfermedades inflamatorias; por lo tanto, es de suma relevancia que todos los especialistas que los utilizan estén al tanto de dicha entidad.
El propósito de este trabajo fue observar y describir las características demográficas y clínicas de un grupo de pacientes con psoriasis paradójica y compararlas con las publicadas en la literatura.
Citas
I. Wendling D, Prati C. Paradoxical effects of anti-TNF-α agents in inflammatory diseases. Expert Rev ClinInmunol 2014;10:159-169.
II. Segaert S, Hermans C. Clinical signs, pathophysiology and management of cutaneous side effects of anti-tumor necrosis factor agents. Am J Clin Dermatol 2017;18:771-787.
III. Fréling E, Baumann C, Cuny JF, Bigard MA,et ál.Cumulative incidence of, risk factors for, and outcome of dermatological complications of anti-TNF therapy in inflammatory bowel disease: A 14-year experience. Am J Gastroenterol 2015;110:1186-1196.
IV. Joyau C, Veyrac G, Dixneuf V, Jolliet P. Anti-tumour necrosis factor alpha therapy and increased risk of de novo psoriasis: is it really a paradoxical side effect? Clin Exp Rheumatol 2012;30:700-706.
V. Iborra M, Beltrán B, Bastida G, Aguas M, et ál. Infliximab and adalimumab-induced psoriasis in Crohn's disease: a paradoxical side effect. J Crohns Colitis 2011;5:157-161.
VI. Nguyen K, Vleugels RA, Velez NF, Merola J,et ál. Psoriasiform reactions to anti-tumour necrosis factor α therapy. J Clin Rheumatol 2013;19:377-381.
VII. Navarro R, Daudén E. Clinical management of paradoxical psoriasiform reactions during TNF-α therapy. Actas Dermosifiliogr 2014, 105:752-761.
VIII. Sfikakis PP, Iliopoulos A, Elezoglou A, Kittas C, et ál. Psoriasis induced by anti-tumor necrosis factor therapy: A paradoxical adverse reaction. Arthritis Rheum 2005;52:2513-2518.
IX. Conrad C, Di Domizio J, Mylonas A, Belkhodja C, et ál. TNF blockade induces a dysregulated type I interferon response without autoimmunity in paradoxical psoriasis. Nat Commun 2018; 9:25.
X. Ko JM, Gottlieb AB, Kerbleski JF. Induction and exacerbation of psoriasis with TNF-blockade therapy: a review and analysis of 127 cases. J Dermatolog Treat 2009;20:100-108.
XI. Groth D, Perez M, Treat JR, Castelo-Soccio L, et ál. Tumor necrosis factor-αinhibitor-induced psoriasis in juvenile idiopathic arthritis patients. Pediatr Dermatol 2019;36:613-617.
XII. Garcovich S, De Simone C, Genovese G, Benti E,et ál. Paradoxical skin reactions to biologics in patients with rheumatologic disorders. Front Pharmacol 2019;10:282.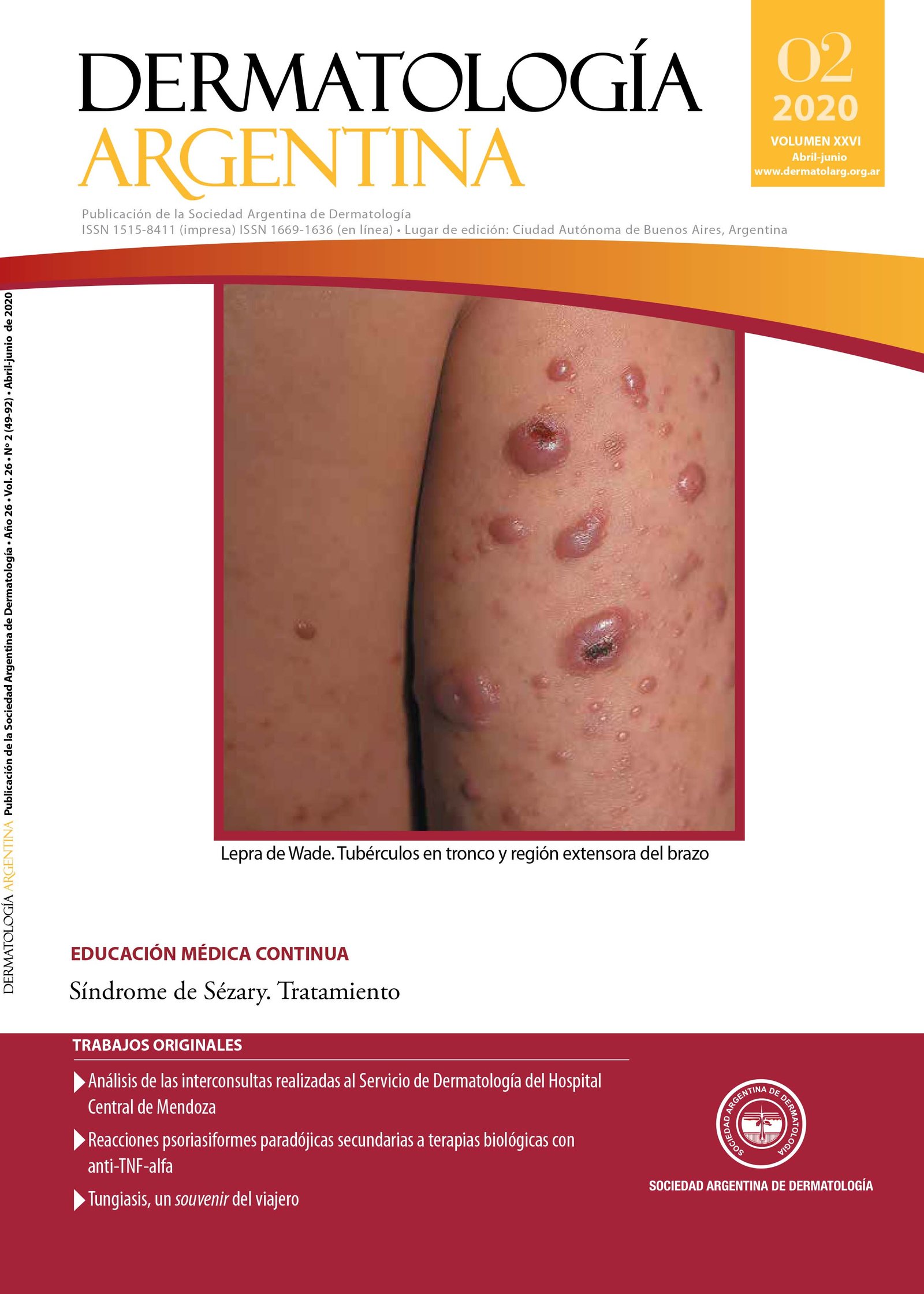 Descargas
Sección
Trabajos Originales
Licencia
El/los autor/es tranfieren todos los derechos de autor del manuscrito arriba mencionado a Dermatología Argentina en el caso de que el trabajo sea publicado. El/los autor/es declaran que el artículo es original, que no infringe ningún derecho de propiedad intelectual u otros derechos de terceros, que no se encuentra bajo consideración de otra revista y que no ha sido previamente publicado.
Le solicitamos haga click aquí para imprimir, firmar y enviar por correo postal la transferencia de los derechos de autor